J BALVIN's Recently Launched VIBRAS TOUR Has Already Been Praised As "A Vibrant Spectacle … A Mesmerizing, Visual Masterpiece… One of The Most Surreal and Exciting Shows Ever"
"Every detail of this magnificent production was well thought out and executed to perfection"
"Eliciting hysteria… a vivacious opportunity for fans to dream in color alongside Balvin."
"a thrilling ride with instantly recognizable hits bursting out like an exploding jukebox"
"a universally mind-blowing experience… with the biggest and baddest props around"
"an irresistible fusion of world beats and rhythms [that] demands nonstop dancing"
"The sold-out venue went into full frenzy. …if you have yet to get your tickets,don't hesitate and get them now."
After An Initial Run Of Show's Throughout The West Coast, J BALVIN's U.S. 'VIBRAS TOUR,' POWERED BY BUCHANAN'S WHISKY Continues With Multiple Concerts This Week In Texas, Followed By Extensive Dates Across The Midwest & East Coast.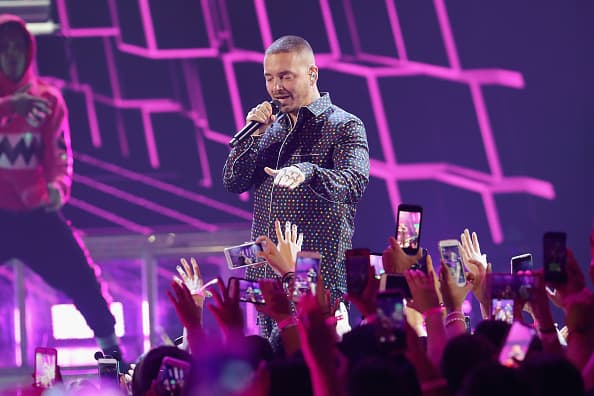 J Balvin Will Perform Oct. 9th On The American Music Awards With Cardi B and Bad Bunny. He Is Also Nominated For Favorite Latin Artist
J BALVIN Is This Year's Top LATIN GRAMMY Nominee, With 8 Nominations –Including Album of the Year ("Vibras") And Two Nods For Record Of The Year
J Balvin Is Also The Co-Leading Nominee For The Latin American Music Awards (9), And Has Also Recently Received Two People's Choice Award Nominations,
And Three BET Hip-Hop Award Nominations.
This Week Saw Billboard Declare J Balvin's Record-Setting "Ginza" Single As The
#3 Latin Pop Song OF All Time
Initial Reviews Of J BALVIN's U.S. VIBRAS TOUR
"J Balvin's Vibras Tour is A Vibrant Spectacle" – PEOPLE.com
"J Balvin impressed a sold-out audience in a spectacular show… with an avalanche of hits... and ambitious Hollywood staging"– Los Angeles Times/Hoy (translated)
J Balvin Vibras Tour: A Musical Odyssey & Visual Masterpiece Slays Los Angeles Stop...J Balvin is not joking. 'People used to come to see a show,' he says moments before going on stage for his third stop of his Vibras Tour at the Forum in L.A. 'Now they're here to see a spectacle.' Truer words have rarely been spoken.. The mesmerizing showcase did not let up, from the first moment to the last glimpse of the entertainer. Equality should be noted, as both men and women were dancing on stage in fearless and fierce choreography. Making everybody feeling included throughout the musical odyssey -- part Tropicana club, part Cirque du Soleil and part simply J Balvin World -- makes for a thrilling ride that's musical, visual and dreamy... J Balvin and every single person in the production seemed to be in sync, presenting a tight show that's stunning, and allowed instantly recognizable hits to burst out like an exploding jukebox." – Billboard
J Balvin puts on greatest show on earth for L.A. twice with Jurassic Vibras Tour - Colombian superstar J Balvin took his Vibras Tour to the Forum in L.A. for two sold-out nights… The proponent of 'dreaming big' literally dreamed up one of the most surreal and exciting shows ever. J Balvin brought to life his dinosaur and emoji doodles from the Vibras (Vibes) album art as the backdrop for his biggest hits. Latin music's top artist put on a concert that translated his feel-good vibes into a universally mind-blowing experience… with the biggest and baddest props around. …As one of the biggest Latin artists, he invested into the show's high production so it could stand up against American pop stars' flashy concerts. The ambitious Vibras Tour actually trounces the local competition with one giant footstep from the red dinosaur." – AXS.
J Balvin Gives Off All The Right Vibes: The hits and awards keep coming but the artist remains focused on creating unique music… an irresistible fusion of world beats and rhythms… This music is a colorful combination of influences from across the globe, but this performer brings them all together into a blend that demands nonstop dancing. Be ready" – Las Vegas Magazine.
"J Balvin Proved Why He's One of the World's Biggest Latinx Acts…. The larger venue is an indication of the growth and success that he's experiencing… on stage, fans were witnessing a certified performer. The show itself was a spectacle of lights, props, and back-up dancers — all complementing J Balvin on stage perfectly… The show is playfully named "Vibras Fun Park" alluding to the Jurassic Park theme of the production. …Every detail of this magnificent production was well thought out and executed to perfection… J Balvin is the hottest Latinx act since Ricky Martin broke into the anglo world."- East Bay Express
"If you missed J Blavin's [Vibras] concert… there two things you should be asking yourself right now. Number one; was what you were doing better? Which we feel free to assume is a, no and number two. Will you ever again pass up an opportunity to see him perform, after hearing all the reviews? Again we feel free to answer for you with a no!..If recent news and music charts aren't enough to convince you…Then seeing him perform his captivating-feel good music live, is a must! The fashion designer, chart-topping, music award leading performer took the stage to a sold-out venue [that] went into full frenzy. …if you have yet to get your tickets, don't hesitate and get them now. So you don't miss out on this vibrant feel good show!" –SoCal Muse